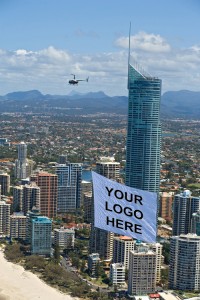 Getting your message noticed in the very cluttered advertising market can be hard – until now.
Helicopter banner towing on the Gold Coast to get your message in front of people has proven extremely effective:
Unique
Instantly noticed
No competitor ads close by!
We can take care of everything including the artwork and having your banner made!
Be different, remarkable and get talked about with banner towing on the Gold Coast!
Banner Towing Used By Conrad Jupiters With Great Success
"When we completed our $53 million refurbishment, we launched a media campaign with the theme 'what will you get up to at the new look Conrad Jupiters' and the heli banner was a perfect way to carry this message to the beach goers along the coast.

It provided another vehicle in our media mix with an element of playfulness and surprise. Its always worthwhile to do something 'big' and a bit different."
Julianna Stewart, Conrad Jupiters
Contact Us For Gold Coast Banner Towing
Contact our helpful staff now for full banner towing details.